The Lure of Cryptocurrency
Well, I just had a couple of interesting days where cryptocurrency is concerned.
I first got into cryptos back in 2014 when I built a PC to mine them.
Back then, you could mine coins directly using your CPU and have an excellent chance of being awarded coins for your PC's computation efforts.
Of course, the value of the coins was very low so the real monetary value of them when converted to fiat currency (dollars, euros, etc.) was also very low.
A lot of people got into mining Bitcoin which meant that coins were mined faster than expected and the difficulty in mining (built into Bitcoin) increased rapidly as well.
Soon you needed to use a good-quality graphics card to mine as CPUs were no longer up to the job.
The PC I built to mine Litecoin which worked until the cat piddled into it and shorted out and destroyed my graphics card!
Electricity usage became an issue and mining dropped off in countries where people were paying $0.15-$0.20 per kilowatt hour.
Very few were looking at Bitcoin and some other alt-coins as being long-term investments.
People wanted to sell what they mined as quickly as they could to make a little profit.
I was one of those.
At one time, I owned a whole 10 Bitcoins.
I'd bought these over time when Bitcoin had risen to the lofty heights of $200-$700 per coin around 2015.
I sold them all in 2019 when Bitcoin was about $7,000.
Not a bad return on investment by any stretch of the imagination, but if I'd held onto those coins, they'd be worth 5 times more today!
And that's where I ended my playtime with cryptocurrency…
…until early January when I became aware of just how high the value of Bitcoin had risen.
Affiliate Programs In The Cryptocurrency Niche
So I started looking for some cryptocurrency-related programs that I could promote as an affiliate.
That search led me to two programs, the first of which was iCoinPro – a platform that teaches you how to make small daily profits from trading Bitcoin and other cryptos.
They also have 4 membership subscription levels from Free to Full Access from which affiliates earn a commission.
This may sound like a traditional Ponzi or Pyramid scheme where new members joining are actually paying to cover the commissions of those higher up in the pyramid.
The difference between a Ponzi and a legitimate Multi-Level Marketing (MLM) program is that a legit MLM will have real products to sell its members.
That's what iCoinPro has with the trading strategies it teaches in its Micro Profits training, and the various tools it makes available to its members.
I signed up for a Basic+ subscription which is $39.95 per month.
I'm still playing around with the initial strategy they teach (you can actually learn that for free here) doing practice trades before I risk any real money.
That's actually their advice until you're good enough to win more trades than you lose.
The objective is to earn between 0.3% and 1% profit per trade and to only trade when the right conditions are met.
That may not sound like a lot but averaging 1% per day will far outstrip any interest you earn from a bank account.
However, the trick here is to compound your earnings.
The Power of Compound Interest
So let's say you buy $100 of Bitcoin and you're going to trade with that.
Over a period of time, you earn an average of 1% profit per day, sometimes more, sometimes less.
You might think that after 30 days, you'd earn 30% but, if you're compounding your profits, you'd actually earn a 34.78% return.
Not much of a difference.
If you just took out your 1% per day and left your initial $100 investment as is, you'd earn $1 per day.
After 6 months (180 days), you'd have earned $180 and still have your initial $100 investment.
If you compound your earnings and make no withdrawals, you'd actually earn $500 in the same amount of time and still have your initial $100 investment.
After a year, you'd be looking at a $365 profit (not compounded) or $3,678 (compounded).
Too Good To Be True?
Seems too good to be true, doesn't it?
The thing is that many of iCoinPro's members have turned small $50 or $100 initial investments into tens of thousands of dollars (there's plenty of testimonials here).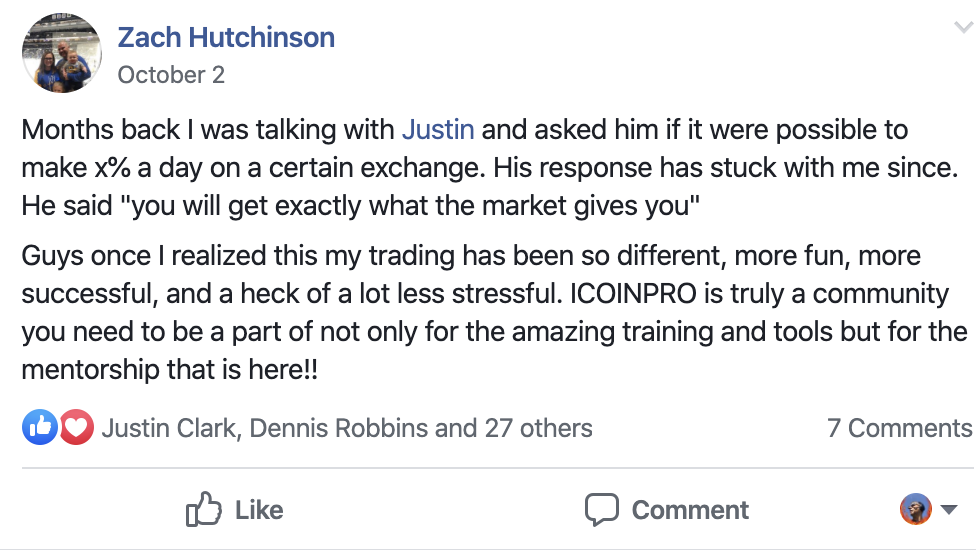 Some have even become full-time day traders.
But it's a system you have to work at and it's certainly not push-button money.
iCoinPro gives you the training and the tools to make applying what you learn that much easier.
They've been around since 2017 so do have a track record.
Now, as an affiliate marketer, the recurring commissions MLM aspect of this appeals to me.
And, because this is a proper MLM, I'm happy to promote it.
Their compensation plan is a bit complex and I won't get into it here, but you can check it out for yourself.
If becoming an affiliate interests you, be aware that you do need to be a paying member of iCoinPro to be an affiliate.
So What's All This Got To Do With List Building And Email Marketing?
Well, with iCoinPro I've identified a service and MLM opportunity that offers a good affiliate program, has a solid track record and is one I'm happy to promote.
So what's the best way of promoting it?
Using the optin pages and webinars they provide?
No.
It's by building my own optin page and sales funnel for the service.
I want to offer some kind of giveaway to entice people to give me their email addresses and I want to offer them bonuses if they decide to subscribe to iCoinPro through my links.
To that end, I recently bought the licenses for a number of cryptocurrency related products.
This is one of 16 products I bought the PLR rights to
The optin page will put people into my sales funnel (building my list) and part of that will be the email marketing component which will tell subscribers more about what iCoinPro offers as well as offer other cryptocurrency related products.
This approach will set me apart from most of the other affiliates who simply promote the raw links they get in their back-offices.
Using Builderall To Build My Sales Funnel
I've been looking for a project that would really let me get my teeth into building a funnel with Builderall (it has its own great affiliate program which you can read more about here).
So what I'll do is document my progress in building the funnel, from the optin page to the email marketing series and show you how it's done in Builderall.
I haven't actually used Builderall yet, even though I've subscribed to it since October (2020).
If you're unclear about how to create a funnel and its components, this'll be a good way for you to look over my shoulder, so to speak.
I haven't decided if I'll record videos of this process or not as I hate appearing on camera and hate the sound of my own voice.
But that's something I really need to overcome if my marketing skills are to improve!
I'll talk about the second Bitcoin affiliate marketing opportunity I found in my next post…
All the best,
Gary Nugent
P.S.: Don't forget, if you want to create an internet income of your own, here's one of my recommended ways to do that:
And you can get some free training here on how to build an online business and start list building here:
GET FREE TRAINING ON LIST BUILDING AND ONLINE BUSINESS...